What We Know
AirPlay Vimeo from iOS: Connect iOS and TV to same WiFi → Launch Vimeo app → Sign in → Play a title → Tap AirPlay icon → Select TV name → Start streaming.
AirPlay Vimeo from macOS: Connect Mac and TV to same WIFI → Visit Vimeo website → Log in → Stream video → Click AirPlay icon → Choose TV → Watch videos on TV.
Want to watch Vimeo videos on a big screen? AirPlay is the best choice. This feature lets you watch Vimeo videos in 4K Ultra HD on your Apple TV or AirPlay 2-enabled TV. For this to work, you should connect your iPhone, iPad, or Mac to the same WiFi network as your Apple TV or Smart TV.
In this article, you will learn the possible ways to AirPlay Vimeo from an iPhone, iPad, or Mac.
How to AirPlay Vimeo from iPhone/iPad
[1] Enable AirPlay on your Apple TV or Smart TV.
[2] Connect your iOS device and TV to the same WiFi network.
[3] Launch the Vimeo app on your iPhone/iPad after installing it from the App Store.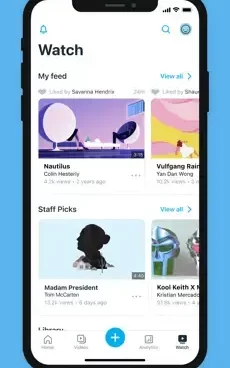 [4] Go ahead to provide your login credentials to sign in and access your account.
[5] Play the title you want to watch.
[6] Select the AirPlay icon from the media player screen that you are streaming.
[7] Wait for the available devices to be displayed after the scan. Now, click on your TV name to establish a connection.
You can now start streaming the video on TV via AirPlay. Once you finish watching a video, don't forget to turn off AirPlay on your iPhone.
How to AirPlay Vimeo from Mac
[1] Turn on AirPlay on your Mac and Apple TV or Smart TV.
[2] Connect your Mac and TV to the same WiFi network.
[3] Open your Safari browser on Mac.
[4] Type the URL of Vimeo's official website in the URL text box.

[5] Log in with your Vimeo account details.
[6] Now, you shall stream your desired video on your macOS.
[7] When the video starts playing, click the AirPlay icon in the video player. If you want to mirror your entire Mac screen, click the Control Center icon and select Screen Mirroring.
[8] Choose your Apple TV or Smart TV from the devices.
Once connected, you can enjoy watching Vimeo videos on TV. After streaming the content, it is recommended to turn off AirPlay on your Mac.
Fixes for AirPlay Not Working on Vimeo
If AirPlay is not working, it may have several reasons. The most common causes are weak WiFi signals, device incompatibility, server outage, corrupted cache, etc. These are common errors and are resolvable, so you don't need to worry.
You can fix it by connecting the TV and Apple device to the same WiFi, uninstalling and reinstalling the Vimeo app, and updating the TV firmware. If the fixes don't solve the issue, refer to our article on AirPlay not working on Vimeo and try the advanced troubleshooting methods.
FAQ
Can you AirPlay Vimeo to Samsung TV?
Yes. You can AirPlay Vimeo to Samsung TV using the same steps discussed above. But, you must turn on AirPlay on Samsung TV.
Why does the Vimeo app keep buffering?
It happens if there is a slow internet connection. Change the video quality to Auto on the Vimeo app to fix the problem.