What We Know
AirPlay NFL from iPhone: Turn on TV → Connect iPhone & TV to same WIFI → Launch NFL app → Sign in → Play content → Tap the AirPlay icon→ Select TV → Start watching.
AirPlay NFL from Mac: Turn on MacBook and TV → Connect them to same WIFI → Open Safari → Visit NFL website → Login → Play a title → Go to Control Center → Select Screen Mirroring → Select TV → Watch on TV.
NFL is the most popular sporting league, and you can watch it from anywhere by installing the NFL app on your smartphone. The best thing about the NFL app on iPhone & iPad is that it is compatible with AirPlay support, and you can use it to watch live matches on Apple TV or AirPlay 2-compatible Smart TVs. You can also AirPlay the Safari browser from Mac to watch the matches on a larger screen.
To live stream NFL matches on your device, you need the NFL+ subscription. Apart from live matches, NFL+ provides access to NFL Network, NFL RedZone, Game replays & highlights, and more.
This article explains the necessary steps to AirPlay the NFL content on bigger screens. Along with that, we have also mentioned the solution to watch the NFL outside the US.
Note: The 2023-24 NFL Season started on September 7, 2023, and Week 3 will have 16 games, which will take place from September 21-25, 2023.
How to AirPlay NFL 2023-24 Season
As we said earlier, you can use both iPhone/iPad and Mac to stream the matches. Before jumping into the steps, visit www.nfl.com/plus/ and sign up for a membership plan. New subscribers can get a 7-day free trial to try out the features.
NFL Plus: $6.99 per month or $39.99 per year
NFL Plus Premium: $14.99 per month or $79.99 per year
Using iPhone/iPad
1. Connect your Apple TV/AirPlay 2 Compatible TV and iPhone/iPad to the same WiFi network.
Note: If you're using an Android Smart TV, ensure the AirPlay feature is enabled (Settings → AirPlay and HomeKit Settings → AirPlay → Turn on the feature). At the same time, only the latest Android TV models are compatible with AirPlay-2 support. You can't find this feature on older models. Visit this support page to view the complete list.
2. On your iPhone/iPad, launch the NFL app and sign in with the necessary credentials.
3. Once signed in, play the content you want, look for the AirPlay icon on the media player and tap on it.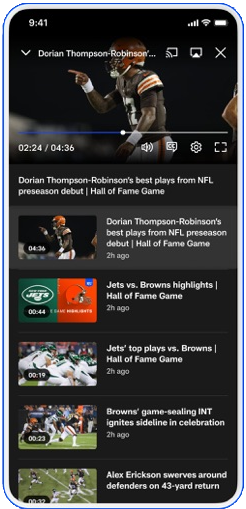 4. Choose your device and watch the content on the bigger screen.
Note: After watching the NFL matches, you can turn off AirPlay on your iPhone to save battery.
Using Mac
1. Like the above method, ensure that devices are connected to the same network.
2. Open the Safari browser and visit nfl.com.
3. Configure your NFL+ login credentials and livestream the match you want.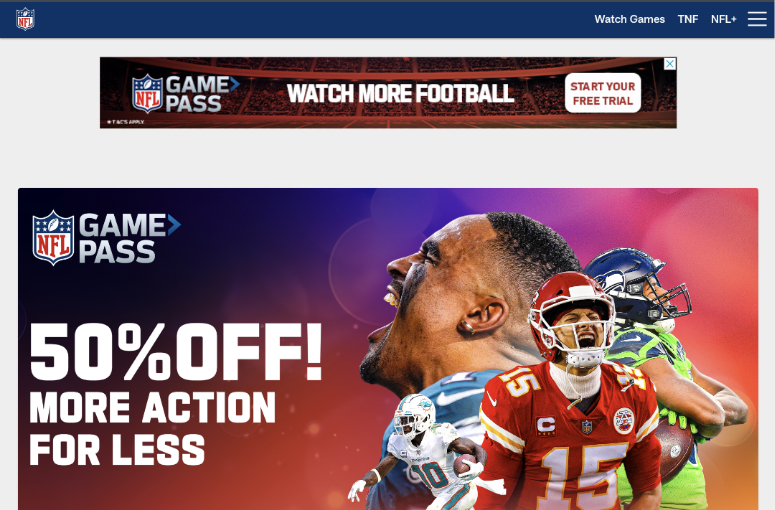 4. Open Control Center on Mac and tap the Screen Mirroring icon.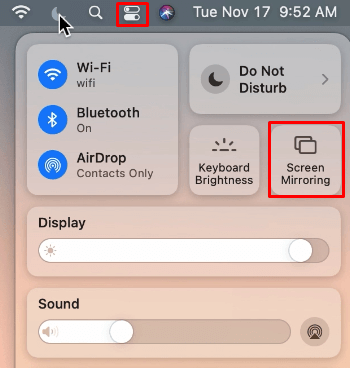 5. Select your TV name from the list of available devices and watch the content on the TV.
Note: Don't forget to turn off AirPlay on Mac if you are not streaming anything from macOS.
How to AirPlay NFL to Smart TV Without WiFi
If your WiFi connection isn't stable, you can mirror the NFL app without WiFi. For this, you need a Lightning to Digital AV adapter and HDMI cable.
1. First, connect the Lightning adapter to your iPhone/iPad via the Charging port.
2. Link the HDMI cable to the adapter and the other end to your Smart TV.
3. Head to the TV Source Settings and alter the source to the desired HDMI port.
4. Open the NFL app on your iPhone and iPad.
5. Play the match and it will be streamed on your Smart TV.
Why is the NFL App Not Working With AirPlay?
The NFL app may not work with AirPlay due to issues like poor WiFi connection, server outage, outdated software, corrupted cache, inactive subscription, etc. These problems are common, so there is nothing to worry about. We recommend users check our step-by-step guide on the NFL app not working on AirPlay and proceed with the mentioned instructions to fix the issue.
How to AirPlay NFL Outside the US
The NFL+ subscription is available only for people residing in the United States. If you're a non-US resident, you must purchase the NFL Game Pass subscription to stream the matches. DAZN is offering the Game Pass subscription, and the price will vary depending on the country you're residing in. Visit this DAZN support page and add the subscription to your account.
Once purchased, you can AirPlay the DAZN app from your iPhone or iPad to watch the NFL Matches on your TV.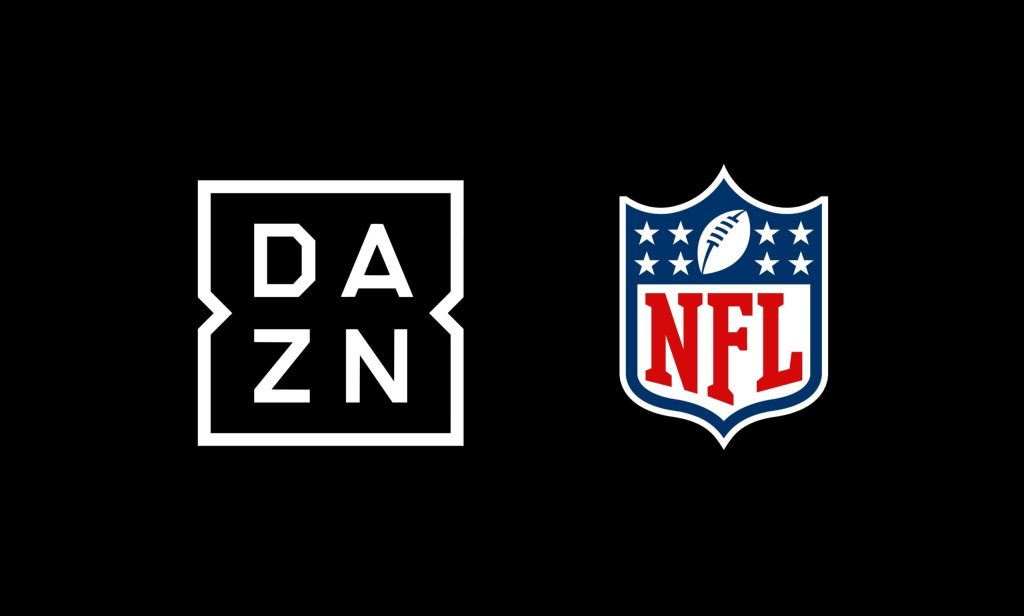 NFL 2023 Season – Week 3 Schedule
September 21, 2023
| Match | TIME |
| --- | --- |
| San Francisco vs N.Y. Giants | 8:15 PM |
September 24, 2023
| Match | TIME |
| --- | --- |
| Detroit vs Atlanta | 1:00 PM |
| Washington vs Buffalo | 1:00 PM |
| Miami vs Denver | 1:00 PM |
| Jacksonville vs Houston | 1:00 PM |
| Baltimore vs Indianapolis | 1:00 PM |
| Minnesota vs L.A. Chargers | 1:00 PM |
| N.Y. Jets vs New England | 1:00 PM |
| Green Bay vs New Orleans | 1:00 PM |
| Cleveland vs Tennessee | 1:00 PM |
| Seattle vs Carolina | 4:05 PM |
| Kansas City vs Chicago | 4:25 PM |
| Arizona vs Dallas | 4:25 PM |
| Las Vegas vs Pittsburgh | 8:20 PM |
September 25, 2023
| Match | TIME |
| --- | --- |
| Philadelphia vs Tampa Bay | 7:15 PM |
| L.A. Rams vs Cincinnati | 8:15 PM |
Frequently Asked Questions
Can I AirPlay NFL Sunday Ticket?
Yes. You can watch the NFL Sunday Ticket via AirPlay if you fulfill the eligibility criteria mentioned on the NFL website.
Can you cast NFL+ content to Smart TV?
NFL+ doesn't allow casting regular season and postseason games from the mobile app due to some limitations.