Bluetooth and AirPlay are two different wireless features that let you connect and stream media seamlessly. Bluetooth is a known feature to all users as it is available on every device. Whereas AirPlay is limited and available on Apple and certain higher-end devices. Here, we have compared Bluetooth vs AirPlay in terms of different parameters.
Though Bluetooth and AirPlay technically have the same features, they are not the same. The two technologies have their own set of pros and cons. They do share some similar traits and hold much more dissimilarities.
In this article, you will learn about Bluetooth and AirPlay and the advantages and disadvantages of these two features.
Bluetooth vs AirPlay
To better understand Bluetooth vs. AirPlay, the section briefly covers everything from basic to advanced regarding both technologies.
Bluetooth
As mentioned, Bluetooth is one of the oldest platforms to transfer data wirelessly. It is considered the universal medium supporting various electrical and electronic devices. Starting from smartphones, laptops, PCs, smartwatches, televisions, cars, bikes, and all other household appliances support Bluetooth. The latest version is Bluetooth 5.3, and the data transfer speed is 2 Mbps with an extended connection range of up to 240 meters.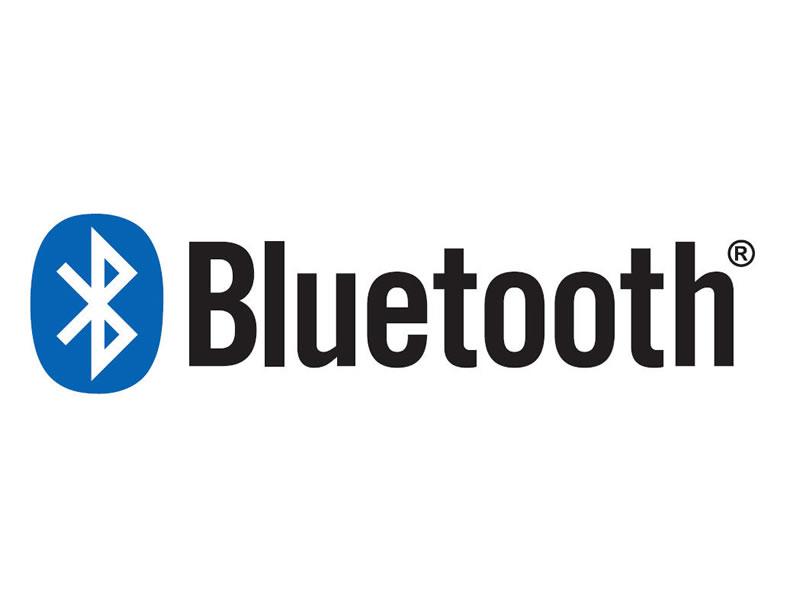 Pros
The major advantage of Bluetooth is that it is universal and can be operated on a wide range of devices.
The Bluetooth technology is very affordable when compared with AirPlay.
It has a minimal interface. Hence, it doesn't require much technical knowledge to use Bluetooth technology.
The process of automating Bluetooth is straightforward. If the devices are paired once, there is no need to pair them repeatedly. Both the paired devices will connect automatically when located under the operating range.
Energy efficiency is also an advantage here. i.e., Bluetooth technology generally operates under low-power signals.
Cons
At times, the connection may be uncertain.
Bluetooth has low bandwidth, thereby resulting in a low operating range.
The technology lags a lot of security protocols. So, the threat of cyber attacks is a bit higher.
How Does Bluetooth Work?
1. Turn on Bluetooth on your smartphone and receiver device (Can be a smartphone, Smart TV, desktop, speaker, Earpods, etc.)
2. On your smartphone, tap the desired device you like to connect.
3. Once the smartphone connects, you will see the pairing code (first time) on your smartphone and the device you connect.
4. Tap Pair to connect.
5. Play the audio on your phone and listen to it on your device. To share a media file, tap Share → Choose Bluetooth → Select the device.
AirPlay
AirPlay allows you to transfer or stream media from one device to another wirelessly. WiFi is the medium to transfer data through AirPlay. Earlier, the feature was exclusive to Apple products, but now most of the latest smart TVs are compatible with AirPlay 2. With AirPlay, you can stream all forms of media, such as audio, video, or even the entire screen of your device onto a big screen. The technology works seamlessly between compatible devices. You can stream audio and video from the source device to the destination device within one or two clicks. The feature is more beneficial if you are concerned about building an Apple ecosystem.

AirPlay vs AirPlay 2
Some of you might not be sure about AirPlay vs. AirPlay 2. For those unaware, AirPlay 2 is the successor of AirPlay, which does wireless transferring without buffering. The improved feature of AirPlay 2 is that it supports streaming audio on multiple speakers simultaneously. Besides this, it supports streaming a variety of content on different devices.
Pros
AirPlay has a wider operating range than Bluetooth. i.e., it uses WiFi as its medium.
With AirPlay, you can experience minimum or negligible quality loss as it carries out a lossless compression method.
It supports multi-room connection, and the good part here is you get to control not only the device volume but also the volume of Apple speakers using your iOS device.
Using AirPlay, you can play different audio on different speakers, and all these activities can be controlled using a single device.
Cons
The devices used to perform AirPlay should be networked (i.e.) the devices must be connected under the same WiFi network to carry out AirPlay.
The service is more expensive because of licensing requirements.
AirPlay is exclusive to Apple devices; only a few compatible smart TVs from other manufacturers support it. It is very low compared to other technologies.
How Does AirPlay Work?
1. Connect your smartphone and TV to the same WiFi network.
2. Turn on AirPlay on your Smart TV.
3. Play the music or video on your iPhone or Mac.
4. Click the AirPlay icon and choose your Smart TV.
5. If it is the first time, type the AirPlay code on your iPhone or Mac, displayed on the TV.
6. Once the device gets paired, you can see the video streaming on the TV.
7. After you complete streaming, turn off AirPlay on your iPhone by tapping the AirPlay icon.
Note: If you have a TCL Roku TV, you can check our guide to AirPlay to TCL TV to screen share media files from an iPhone or Mac.
Bluetooth vs AirPlay 2: A Quick Comparison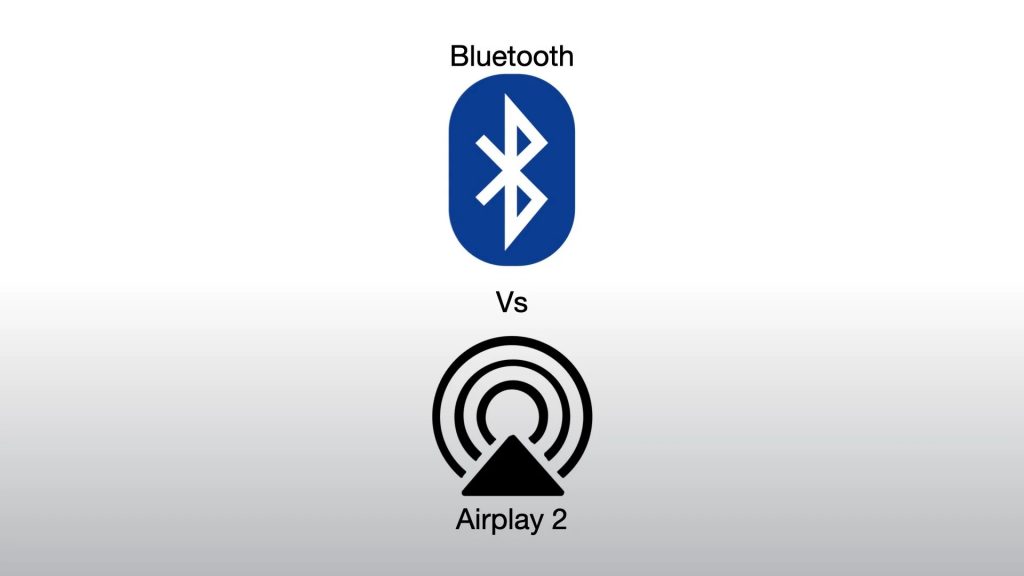 | Parameters | Bluetooth | AirPlay 2 |
| --- | --- | --- |
| Operating Range | Low (10 – 20 meters approx.) | High (Extends up to the operating range of WiFi) |
| Media Quality | Quality fades noticeably | Minimum or Zero quality loss |
| Device Compatibility | A wide range of devices are compatible | Exclusive for Apple devices and a few compatible Smart TVs |
| Data transfer speed | The latest Bluetooth 5.3 has a 2 Mbps of transfer speed | It depends on the speed of the WiFi, but it is usually faster than Bluetooth |
| Media compatibility | Can stream only Audio | Can stream Audio as well as Video |
| Compatible audio formats | AAC, ATRAC, AptX, MPEG-1, MPEG-2, MPEG-4, MP3, SBC | AAC, ALAC, MP3 |
| Maximum number of Connections | 7 | No specific limit |
Major Differences: Bluetooth vs. AirPlay 2
Below are the major differences between Bluetooth and AirPlay
| Bluetooth | AirPlay 2 |
| --- | --- |
| Bluetooth is widely available on all devices | Limited availability on Apple devices, Smart TVs, and streaming devices |
| Has the ability to transfer files, such as video, audio, photos, and docs | AirPlay can connect devices that reside in the same network |
| Suffers a loss of audio quality | No compromise on audio quality |
| Able to connect devices within a specific radius | AirPlay can connect devices that reside in the same network |
Bluetooth vs AirPlay: Which is Better
Choosing between Bluetooth or AirPlay depends on an individual's perspective. For instance, using AirPlay will be effective if you have Apple devices. Otherwise, transferring media over Bluetooth is all you can opt for. Besides, factors like cost, quality, compatibility, etc., will play a key role, and the users can choose the technology based on their requirements.
FAQ
Does Bluetooth have better audio quality than AirPlay?
Bluetooth uses compression codecs like AptX while transferring the media. However, you will experience reduced audio quality. Regarding AirPlay, the user can transfer audio over ALAC, and you will not find any dropout issue. Hence, AirPlay delivers the better audio quality.
Is it possible to use AirPlay and Bluetooth simultaneously?
Yes. You can use AirPlay and Bluetooth at the same time.
Does AirPlay use Bluetooth or WiFi?
AirPlay only works using a strong WiFi network and doesn't need Bluetooth.