Alexa Echo is one of the user's favorite and widely used smart digital assistants. By pairing your smart devices with Alexa Echo in your home, you can command Alexa Echo to perform actions on the smart devices. While AirPlay works with HomePod, it is obvious to get questions like how to AirPlay Alexa or whether it is possible to AirPlay Alexa Echo from a Mac or iPhone/iPad. Unfortunately, there is no way you can AirPlay on Alexa Echo devices. With the unavailability, you should know details regarding the Amazon Echo AirPlay hack.
Is Alexa Echo AirPlay 2/AirPlay Compatible
No. Alexa Echo is a smart speaker, and it is not compatible with the AirPlay feature. You can pair the device only with Bluetooth or a WiFi connection. Although it works with a WiFi connection, it doesn't have the AirPlay feature. Once you have paired your Apple and Alexa devices, you can command Alexa to perform the smart features on your device. Until Alexa AirPlay 2 support is available, using Bluetooth is the only way to listen to music on Alexa from iPhone.
How Can I Stream Music on Alexa Echo Without AirPlay
You can stream the music from the Alexa Echo speaker by connecting your mobile and Echo device to the same WIFI connection or pairing the device with a Bluetooth connection. If you need help pairing your Echo device and iPhone, follow the guide below.
(1) Turn on the Alexa Echo Speaker and command Alexa as: "Alexa, Pair." Alexa will reply to you as Searching.
(2) Now, navigate to the Settings of your iPhone and select the Bluetooth settings.
(3) Select and pair your iPhone with the Alexa Echo device.
(4) Once you have connected your iPhone with the Alexa Echo device, Alexa replies you Connected to [device name].
(5) Now, download the Alexa app from the App Store and set up the Echo device with your iPhone.
(6) Once you have completed the setup process, select the More button at the bottom right corner of the Alexa app.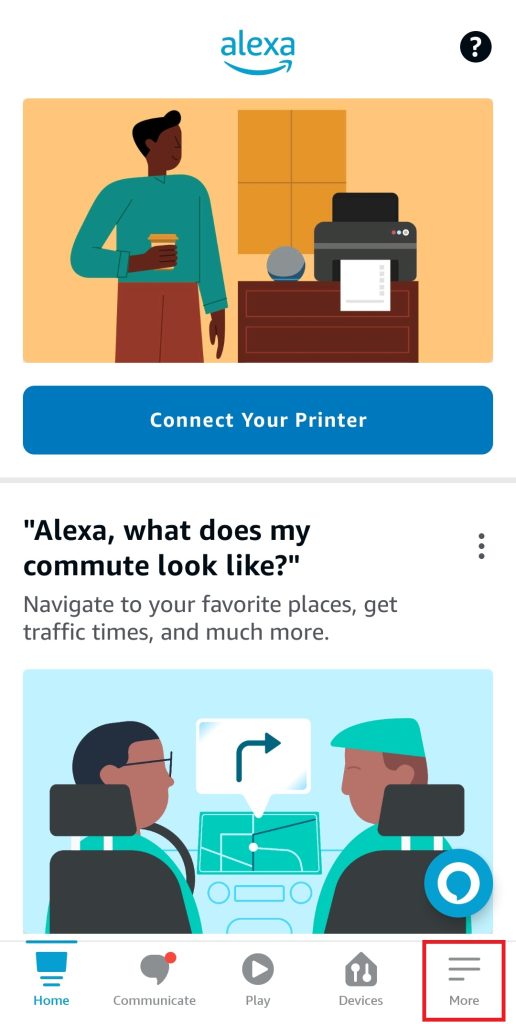 (7) Choose Settings on the next page.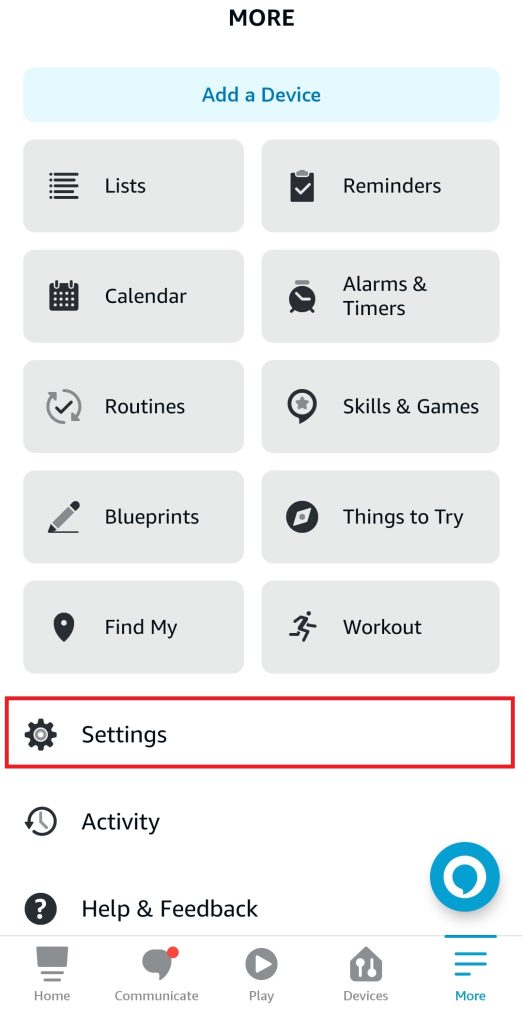 (8) Locate and select the option Music and Podcasts.
(9) Tap the Link New Service button and select Apple Music.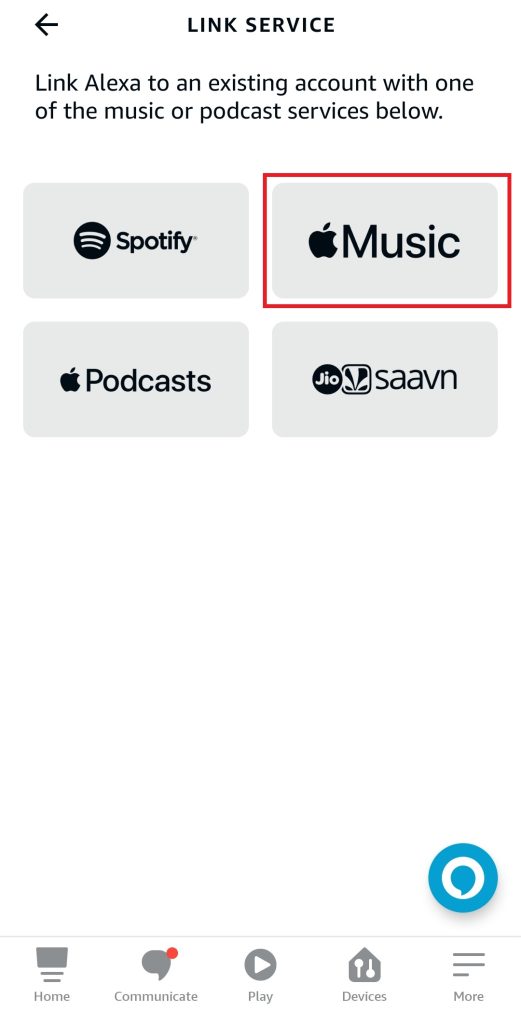 (10) Now, sign in with your Apple ID to link your account.
(11) Finally, change Apple Music as the default music to complete the process.
(12) Now, you can command Alexa to play songs. The songs will be played from your Apple Music account.
How to Cast Amazon Music on Alexa Echo from iPhone/iPad
(1) To use Alexa Cast, turn on your Alexa device and launch the Amazon Music app.
(2) Ensure to connect your Alexa Echo device and iPhone to the same WiFi network.
(3) Select and play the music file you need to stream on Alexa Echo.
(4) Click the Cast icon at the bottom of the app.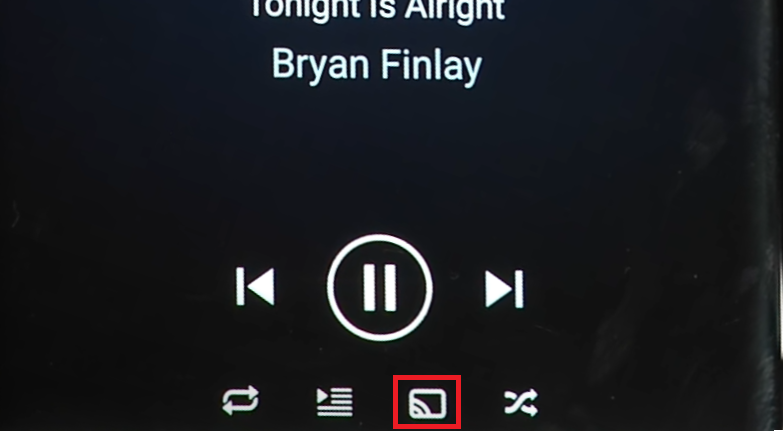 (5) Choose your Echo device on the next page.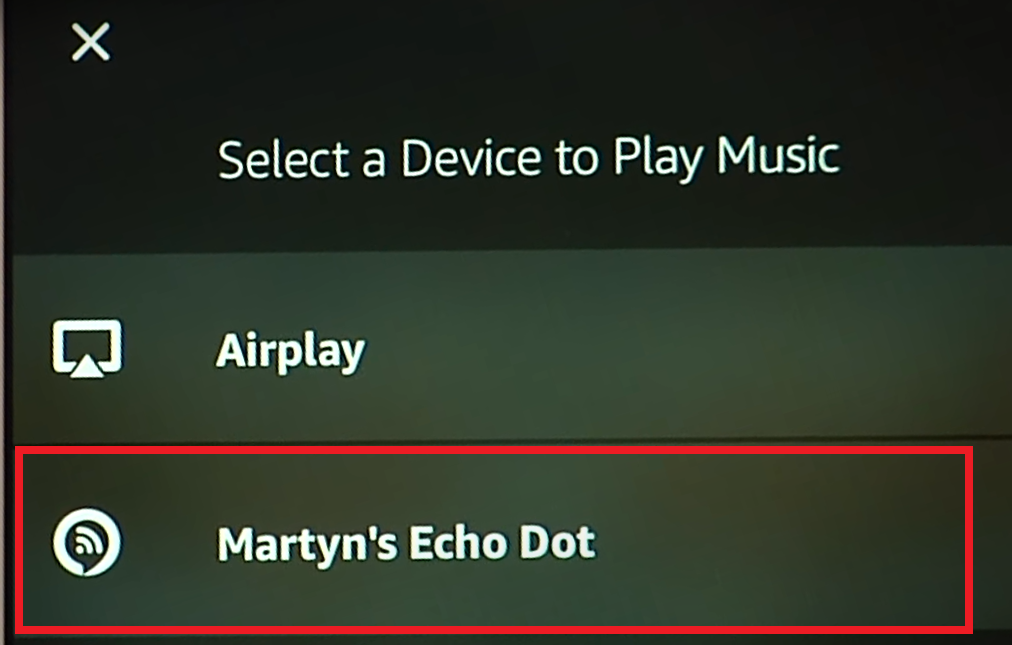 (6) Now, you can start streaming your favorite music from your iPhone to the Alexa Echo device.
How to Control Apple TV using Amazon Echo Without AirPlay
Like iPhone/iPad, you can't connect Amazon Echo with Apple TV via AirPlay. However, you can connect both devices either Bluetooth. However, when you connect the devices with Bluetooth, you can perform basic operations, like opening apps, increasing the volume, etc.
Connect Apple TV and Alexa using Bluetooth
(1) Go to Settings on your Apple TV and select Remote and Devices.
(2) Choose Bluetooth and enable it.
(3) Launch the Alexa application on your smartphone.
(4) Navigate to Devices → All Devices → Amazon Echo
(5) Tap Bluetooth Devices and hit Pair New Device.
(6) Select your Apple TV to pair with the Amazon Echo.
Connect Apple TV and Alexa using Harmony Hub
If you want to make advanced commands, you can use external devices like Hub, which acts as a bridge between these two devices.
Before you get into the process, ensure you have all the things listed below.
Apple TV device connected with Smart TV and account.
Amazon Echo device and account.
Harmony Hub device and remote app.
(1) Ensure the devices are connected to the same WiFi network.
(2) Next, download the Harmony Hub app on your iPhone and pair it with your Apple device and Alexa.
Pair the Harmony Hub app with Apple TV: Go to the Hub app on your smartphone → Settings → Devices → Tap on Apple TV → Select Connect.
Connect the Harmony Hub with Amazon Echo: Open the Hub mobile app → Create Activity → Voice Command section → Make a new activity space for Echo and pair the device.
(3) Once you have connected the Apple TV and Alexa to the Harmony Hub app, you can start commanding the Apple TV.
(4) Say, 'Alexa, turn on Apple TV' or 'Alexa, open Apple Music on Apple TV,' or any other.
(5) Finally, you can command Apple TV with Amazon Echo using Voice Commands.
FAQ
1. Can you use Alexa as a speaker?
Yes, you can use the Alexa Echo as a smart Bluetooth speaker.
2. Can you AirPlay to Echo Dot?
Yes. It is possible to use AirPlay on Echo Dot, provided you have connected the Alexa app with the AirPlay-compatible device. It works if you have enabled the Alexa AirPlay skill.
3. Is it possible to connect Amazon Echo with Apple TV directly?
Yes. You can directly connect the Amazon Echo device to your Apple TV via Bluetooth.