Do you wish to set up a Home Theater and looking for the best AirPlay speakers? Since there are several AirPlay speakers available in the market, you might be confused to choose one. To make your search easy we have the top-rated speakers with a detailed description. In this article, we provide you with a list of the best AirPlay-compatible speakers that meet your specific needs and budget.
Apple HomePod Mini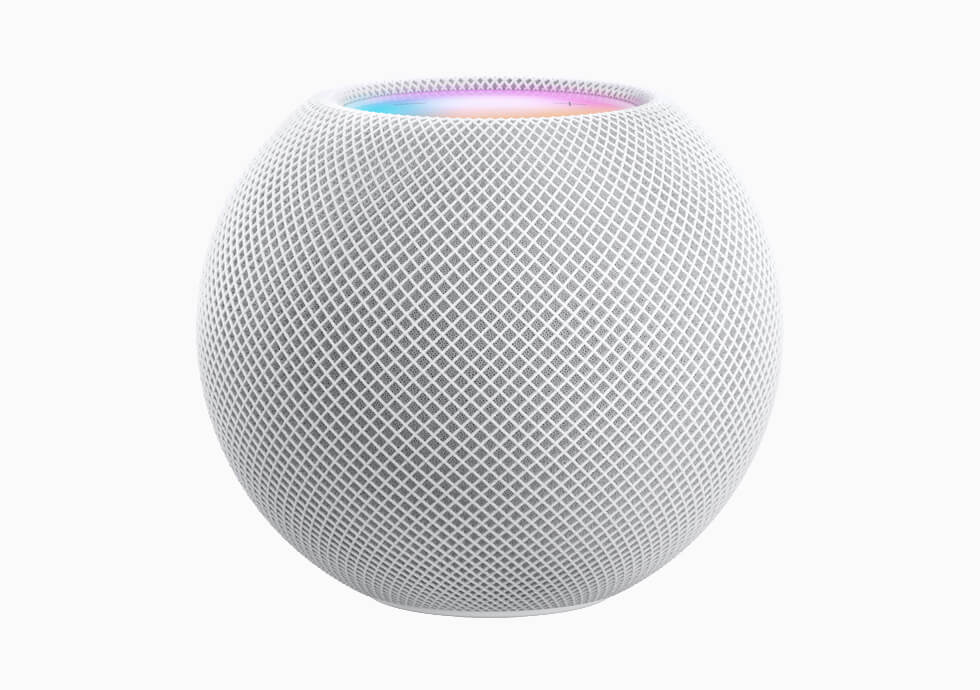 Apple HomePod is the first speaker that comes to mind when discussing the best AirPlay speaker. Unfortunately, Apple decided to discontinue it in mid-2021 to fix the bugs and improve the features of the upcoming successive models. Instead of HomePod, you can opt for its Mini version which is now available in the market. Though the sound quality of this speaker is not up to the mark of the original HomePod, the mini version was also in the contest for best AirPlay 2 speakers for its build quality.
The Apple HomePod Mini easily connects with your iPhone or iPad and has a multi-room audio feature. Fortunately, it comes with Siri Voice Assistant which lets you control the device with voice commands.
Specifications:
Power: 20W
Size: 3.3 inches high and 3.9 inches wide
Features: Siri, Apple Music, AirPlay 2, Music over Wi-Fi
Audio Technology: Stereo pair capable, Multi-room audio, Four-microphone design, 360-degree sound field, full-range driver, and dual passive radiators.
Wireless: 802.11n Wi-Fi, Direct guest access, Bluetooth 5.0, Thread, Ultra Wideband chip for device proximity
Drawback:
Third-party support is limited
No mute option for the microphone
Apple Music is required for full-function
Naim Mu-so Qb 2nd Generation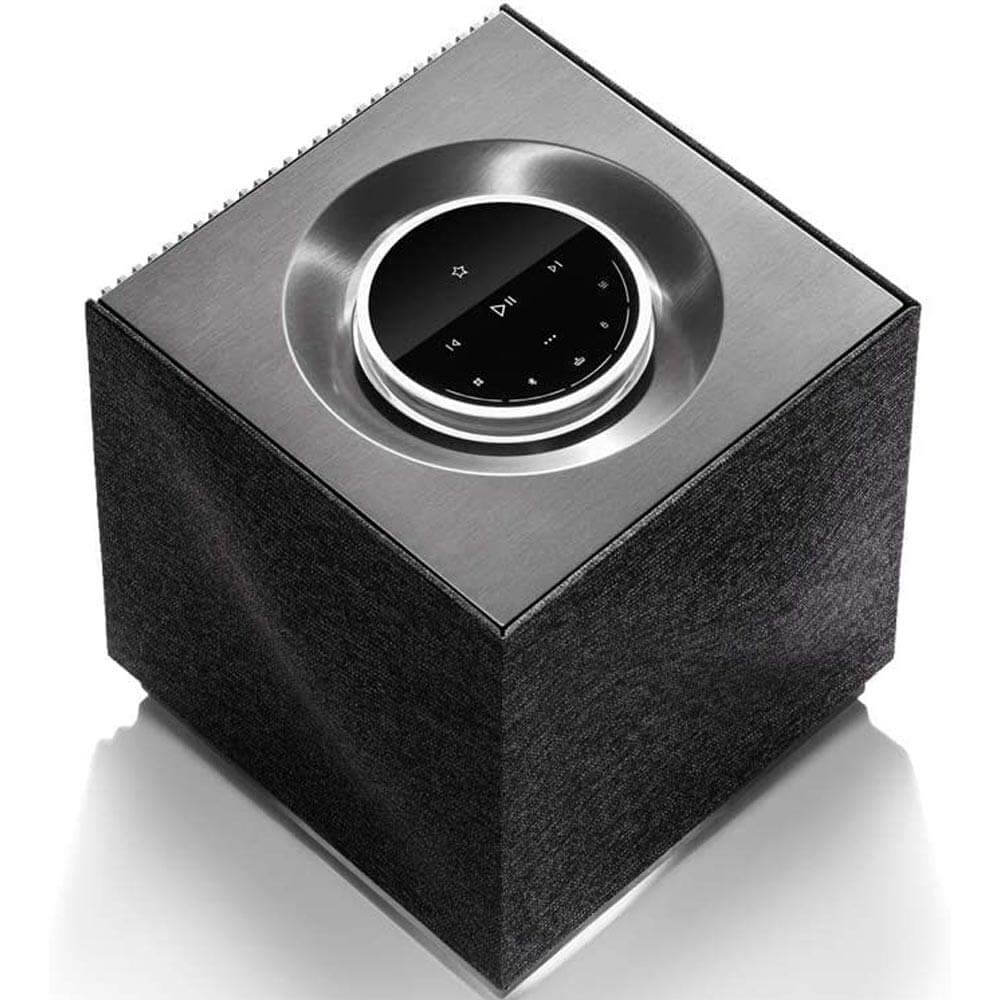 If you require a top-quality audio streaming speaker at an affordable price, Niam Mu-so Qb 2nd Generation is worth considering. It is capable of high-resolution playback up to 24-bit/384kHz. The 2nd Gen model is better than its previous versions and has high clarity, precise timing, and extraordinary dynamics. You can control the speaker without your phone using the speaker's touch screen, which allows you to utilize internet radio stations. Moreover, you can even AirPlay your favorite music anytime through the speaker.
Specifications:
Power: 15W
Size: 210mm x 218mm x 212mm
Features: AirPlay 2, Chromecast built-in, Bluetooth, Spotify Connect, TIDAL, Roon-Ready, App Control (iOS and Android)
Drawback:
Audio Pro Addon C3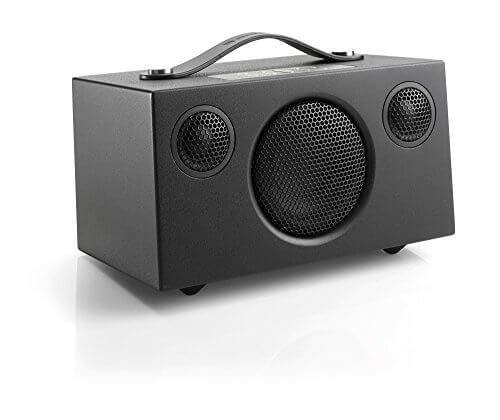 The Addon C3 is an excellent solo speaker with multiple features. It gives you an instant streaming list of the playlist. For easy handling, the Bluetooth and the Pairing buttons are made together as a single button. The speaker is compatible with Apple Music AirPlay along with all the major streaming services, including Spotify, Qobuz, and Tidal. Setting it up is easy no matter whether you choose Bluetooth, AirPlay, or Wi-Fi connection. The battery life would last for about 15 hours.
Specifications:
Size: 115mm X 215mm X 135mm
Connectivity and features: Ethernet, 3.5mm Stereo, AUX, Bluetooth, AirPlay, Spotify Connect
Audio support: Apple lossless, MP3, WMA, AAC, FLAC
Power: 3.0 W
Drawback:
Controlling the speaker via the app can be a slicker
Audio Pro Addon C10
Addon C10 is an Award-winning multi-room speaker. It is compatible with almost all the music streaming services like Spotify, Tidal, Qobuz, etc. Though it sounds big and bold, it has the ability to capture subtler tracks. If you want to pick the all-rounder performance out of the Addon range, it has to be the Addon C10 speaker.
Specifications:
Size: 166mm x 320 mm x 180mm
Power: 7.4 W
Connectivity and features: 3.5mm Stereo, Wi-Fi, AUX, RCA, Bluetooth, AirPlay, Spotify Connect, DLNA
Audio support: Apple lossless, MP3, WMA, FLAC, AAC
Drawback:
It is not worth the price, as we can get a better device at a cheaper cost
Audio Pro DrumFire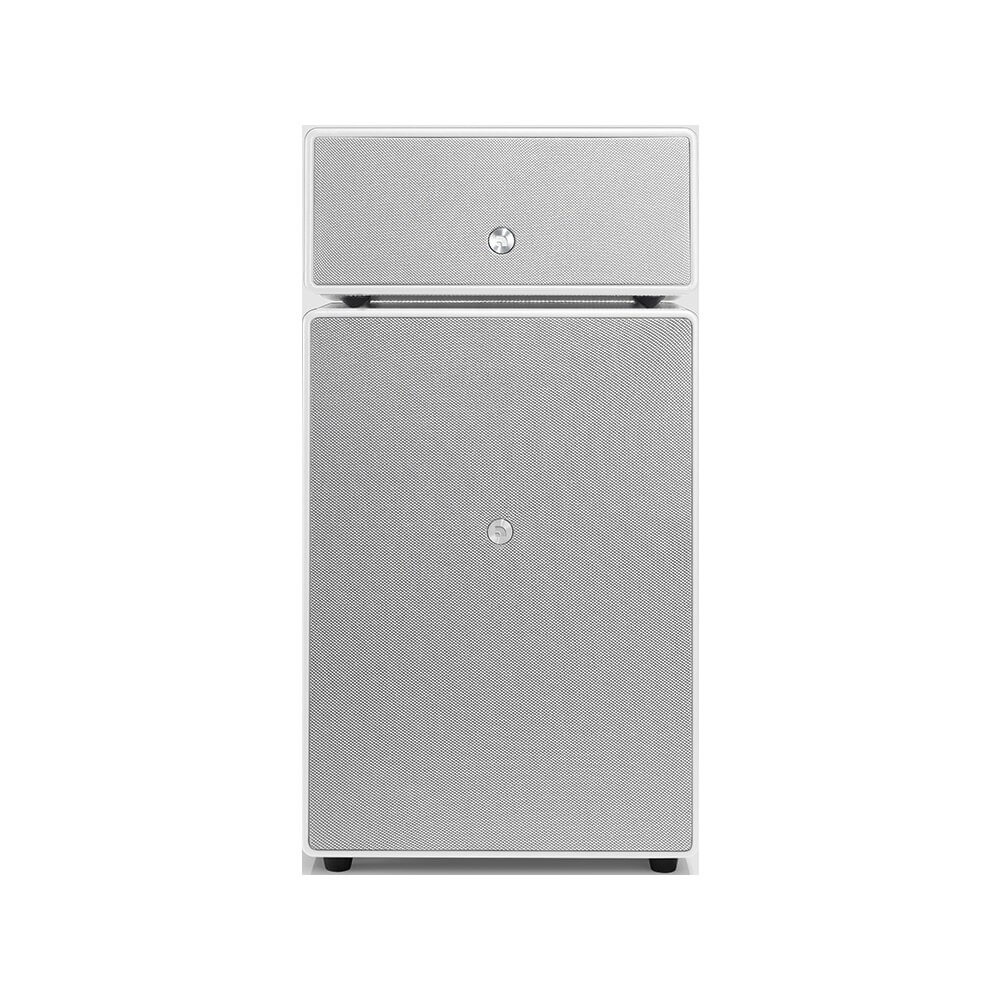 With the arrival of DrumFire, it became the best and the biggest sounding speaker in the Audio Pro's range. Compared to other Audio Pro speakers, it is slightly weighted high. It includes a subwoofer of 20cm given power by a 200W Class D Amplifier to boost the bass. If you need a powerful sound then look no further than DrumFire.
Specifications:
Size: 655mm x 190mm x 365mm
Connectivity and features: 3.5mm Stereo, Wi-Fi, AUX, Bluetooth, AirPlay 2, Multiroom, Spotify
Audio support: Apple lossless, MP3, WMA, AAC, FLAC
Power: 7.4W
Drawback:
JBL Link Portable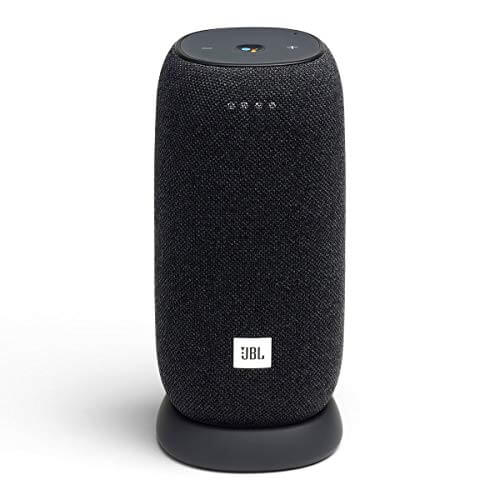 Though there are several portable Bluetooth speakers available in the market, JBL Link Portable stands out from the list. It has an IPx7 rating making it completely waterproof for a depth of 1m and up to 30 minutes. The speaker will function for 8 hours on a single charge completely. Thus, you can AirPlay music to a JBL speaker for a long period without interruptions. It also has a wide mix of everything, including the bass, that makes the device special.
Specifications:
Size: 17cm x 9cm x 9cm
Power: 20W
Connectivity and features: Bluetooth V4.2, Spotify, Wi-Fi, Chromecast, AirPlay 2, Google Assistant
Drawback:
JBL Connect Support is not available
Audio Pro Addon C10 MkII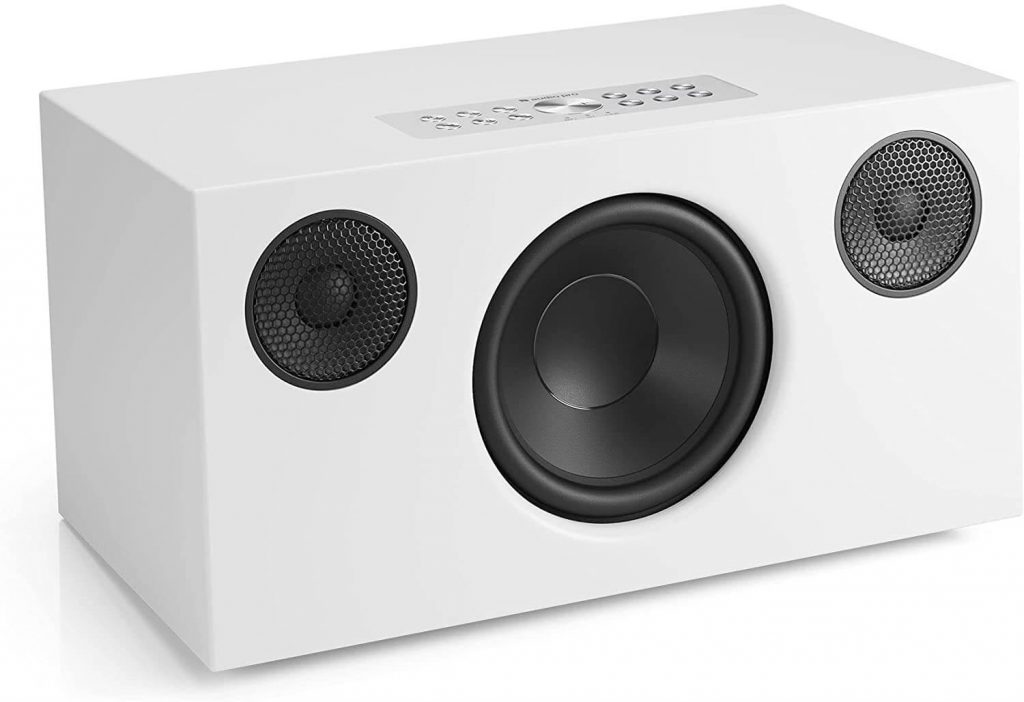 The recent update of Audio Pro Addon C10 MkII serves as an enhancement to the previous three-time Award-winning Addon C10 model with improved sound quality and added features. In addition to AirPlay, it also supports Chromecast on Android devices. Moreover, it could be operated by the Audio Pro's own controller app. It also has Skip Foward and Backward buttons on the device along with Play or Pause buttons.
Specifications:
Size: 166mm x 320 mm x 180 mm
Connectivity: RCA, Bluetooth, Spotify Connect, Tidal Connect, Multiroom Audio Pro, Multiroom AirPlay 2, Multiroom Google Cast.
Audio support: Apple lossless, MP3, WMA, AAC, FLAC
Drawback:
No Smart Assistant feature
No Wired Network Connection
Linn Series 3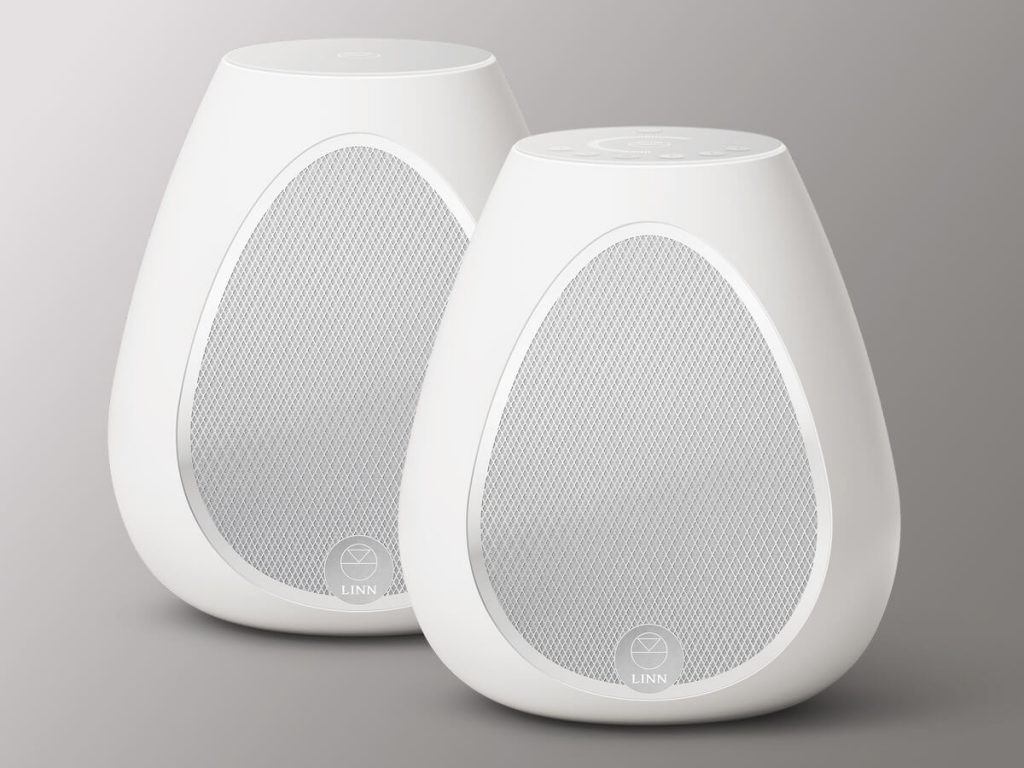 It is the best AirPlay speaker in terms of sound and is very expensive for a wireless box. It has a luxury design, and it is articulated excellently. Spotify, Apple Music, Amazon Music, or your music collection, no matter where the music is from, this speaker will increase your love for it tirelessly.
Linn's proprietary Exakt technology strives to decrease phase errors by delaying the higher frequencies intentionally to make you hear them simultaneously as lower frequencies. It includes an HDMI Arc port. Multiple Series 3 speakers can be interlinked throughout your phone to play songs independently or together.
Specifications:
Size: 250mm x 296 mm x 206 mm
Power Consumption: 95W max
Resolution: Up to 24-bit 192 kHz
Supported Audio Formats: FLAC, ALAC, WAV, MP3, WMA (except lossless), AIFF, AAC, OGG
Connectivity and features: Wi-Fi, Bluetooth, HDMI ARC, AirPlay, Wireless integrated Linn DSM player, Exakt digit crossover.
Drawback:
Analog inputs and Tidal Masters support are not available
Bowers & Wilkins Formation Wedge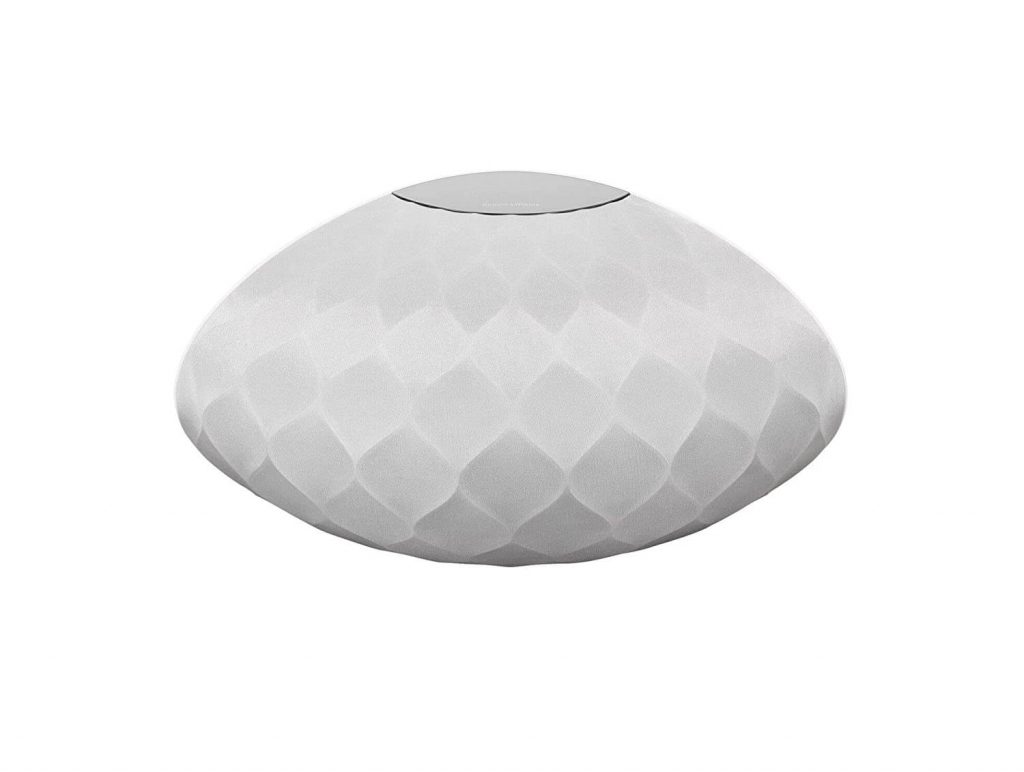 As a successor to the B&W Zeppelin speaker, this elliptical speaker has more features. It enables you to stream audio in high resolution up to 24-bit 92 kHz via its tweeters, and subwoofers. You would experience a true stereo sound provided by its five precisely angled drivers. Being a boon to ears, its vocals and audio are emotive, and textured with great dynamics.
Specifications:
Size: 232mm x 440mm x243mm
Amplifier Power output: 2 x 40W (tweeter), 2 x 40W (midrange), 1 x 80W (subwoofer)
Technical features: Bluetooth In, Spotify Connect, Dynamic EQ, Roon Ready, Digital Amplifier, Apple AirPlay 2, Digital Signal Processing (DSP)
Drawback:
Expensive with limited B&W app
Sonos One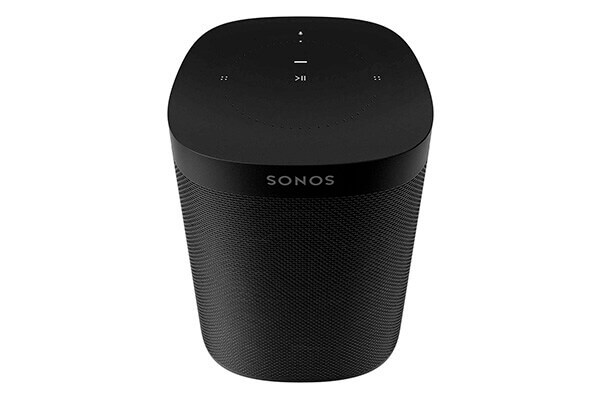 The Sonos One allows Amazon's Alexa smart assistant for voice controls and provides a room-filling sound. You can hear audio with great details and rich bass. You can use a stereo pair with the One and microphone-free One SL. Connect with the speaker to enjoy streaming music, radio, audiobooks, and podcasts from all your favorite streaming services. You can even AirPlay to Sonos, as it is one of the finest products designed for it.
Specifications:
Size: 16.1cm x 12cm x 12 cm
Power: 2 x Digital class D
Connectivity and features: Ethernet, Wi-Fi, Alexa voice assistant, AirPlay 2, Multi-room, Spotify, Apple Music, SoundCloud, Deezer, Tidal, Amazon Music.
Drawback:
High-resolution audio is not available
Sonos Roam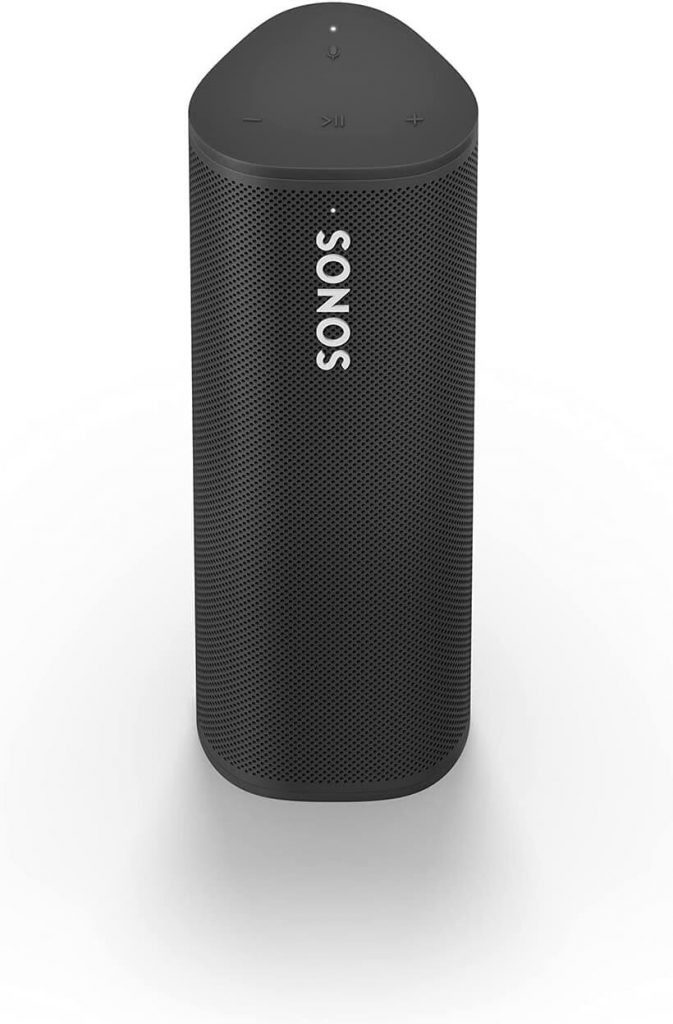 It provides powerful sound, smart home control, and extraordinary connectivity features. A powerful sound system with bass-heavy performance makes it one of the best AirPlay 2 wireless outdoor speakers. It has an Automatic Switching feature using which you can also play the speaker in a closed area. But in the latter case, the frequency will be low, and the rhythmic handling could be poor. It has Alexa to initiate voice commands along with Google Assistant.
Specifications:
Size: 168mm x 62mm x 60mm
Features: Wi-Fi, Bluetooth, Spotify Connect, Apple AirPlay 2
Water Resistance: IP67
Drawback:
No stereo pairing over Bluetooth
Sound Swap does not work on Wi-Fi, Bluetooth, and AirPlay modes
Devialet Phantom I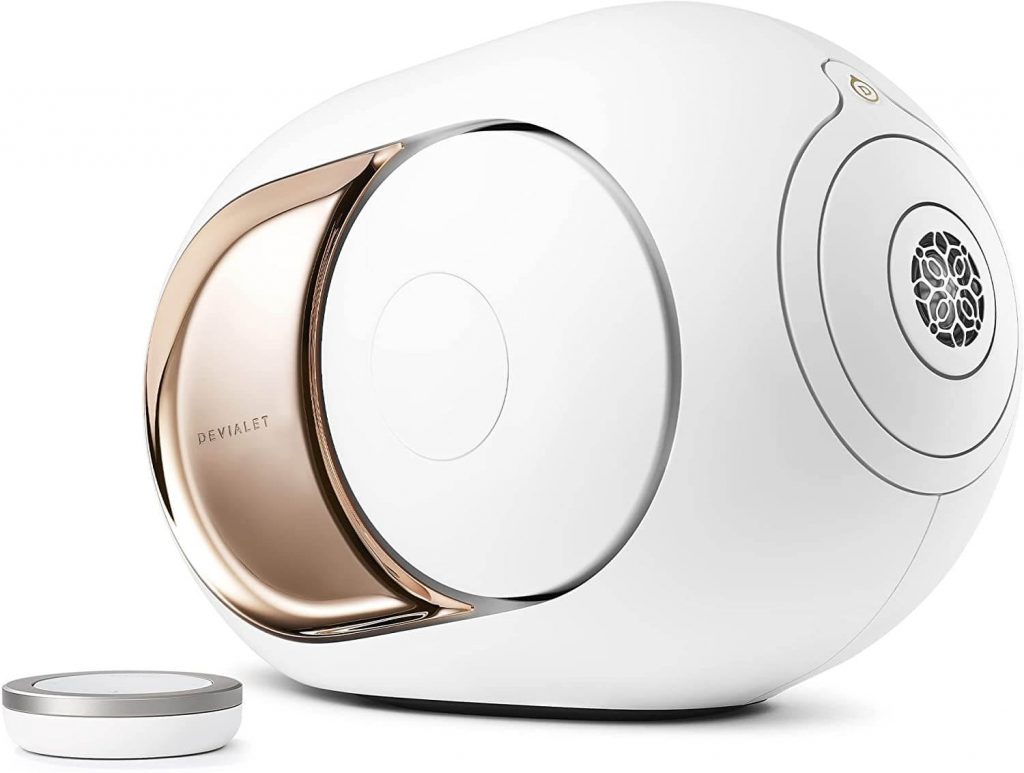 The Devialet Phantom I serves as a continuation of the iconic range of wireless speakers of the French audio brand. They have powerful side-firing bass reflex ports that vibe in time with your music. In addition, it has 22-carat rose gold plated sides making it expensive and one of the best high-end AirPlay speakers.
Specifications:
Size: 255mm x 252mm x 342mm
Connectivity and features: Wi-Fi, Bluetooth, AirPlay, Spotify Connect, Roon Ready
Drawback:
Too much expensive along with being heavy and large
Volume Control is not efficient enough
Amazon Echo Studio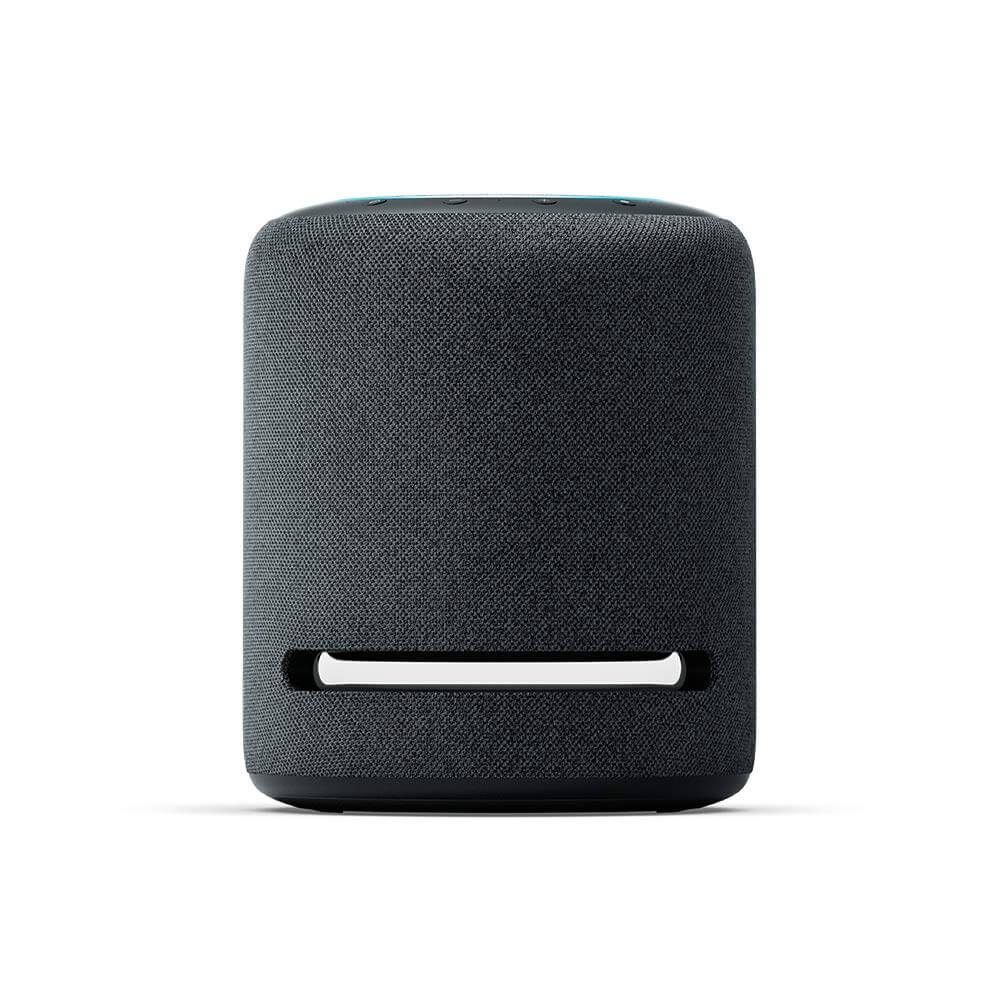 It is the best-value AirPlay speaker for people who love Alexa. It is a good choice for people who run low on space and can't upgrade to a multi-speaker soundbar setup. If you like to upgrade the built-in speakers of your TV or low stereo soundbar, this will be the best choice. When you AirPlay to Amazon Echo Studio, it offers sound with precise volume and bass and more depth than a soundbar available on the market for the same price.
Specifications:
Size: 206mm x 175mm
Connectivity support: Wi-Fi, Bluetooth, AUX, AirPlay
Drawback:
Bigger than the average Echo
3D audio is a mixed bag
Bose Home Speaker 300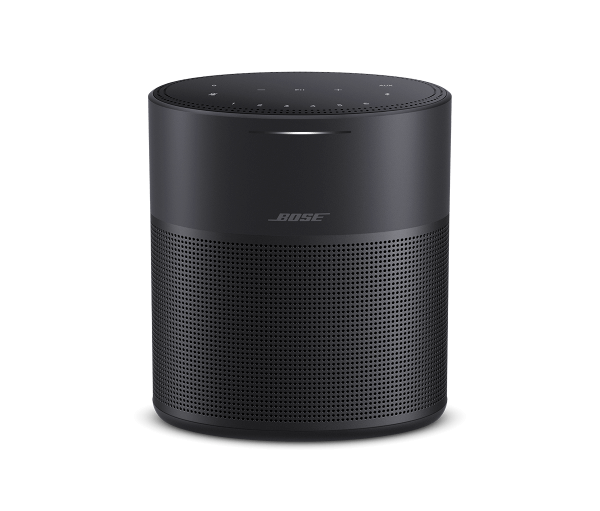 Bose Home Speaker 300 is a premium speaker with a powerful bass and a 360-degree sound system. The speaker has in-built voice assistants like Google Assistant and Alexa, with voice control features enabled. It can redirect sound in all directions. In addition, it has six microphone arrays that provide epic voice pickup. AirPlay to Bose Speaker your favorite music from your iPhone/iPad and that will be a unique listening experience.
Specifications:
Size: 10.21cm x 14.2cm x 16.1cm
Supported Features and Apps: Alexa, Google Assistant, Apple AirPlay, Spotify, Deezer, Amazon Music, TuneIn
Drawback:
The absence of dynamic range with the timing is underwhelming
Sonos Era 300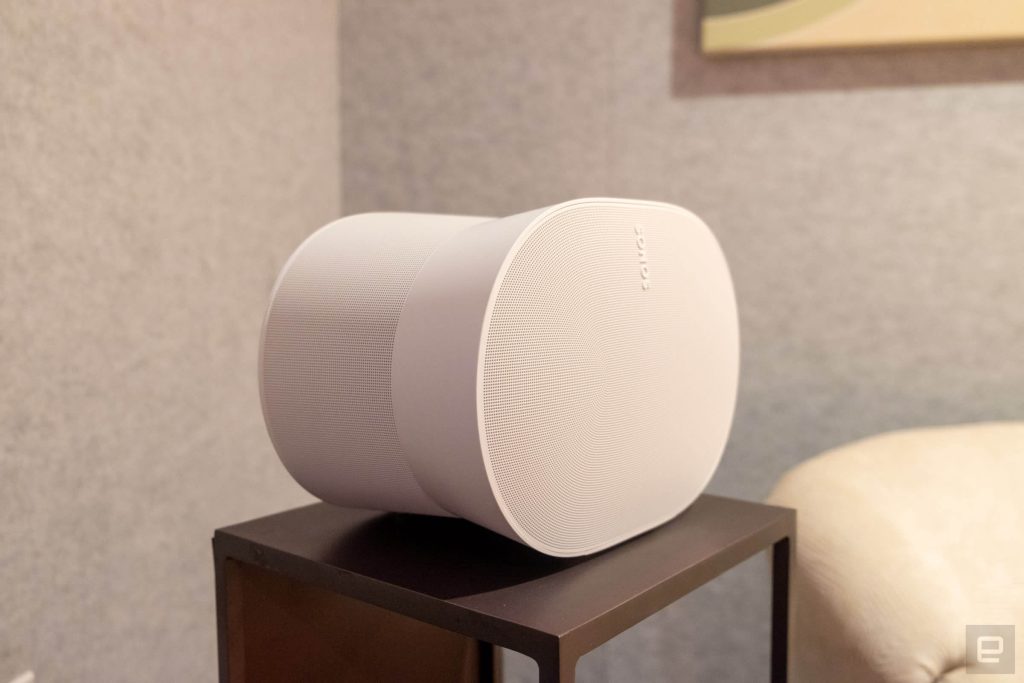 Sonos Era 300 is an expensive rival to Homepod 2 which offers spatial audio support to AirPlay Amazon Music and Apple Music. The tweeters at the center would fill your room with gleaming vocals and lead instruments of the music. Its efficient software consumes less power while playing audio and when the speaker is not in use. This speaker ensures your security and privacy with the safety switches that you can toggle off when the speaker is idle. It comes with the Airplay 2 feature and you can get 24-bit/48KHz hi-res music support from Qobuz and other music services.
Specifications:
Size: 16 x 26 x 18.5cm
Features: Spatial audio with Dolby Atmos, Stereo pairing, TruePlay tuning, Spotify Connect, adjustable EQ.
Power and Connectivity: WiFi, Bluetooth, Voltage, USB-C, Apple AirPlay 2.
Drawback:
It's underwhelming for the price since you can get a better speaker at this price.
KEF LSX II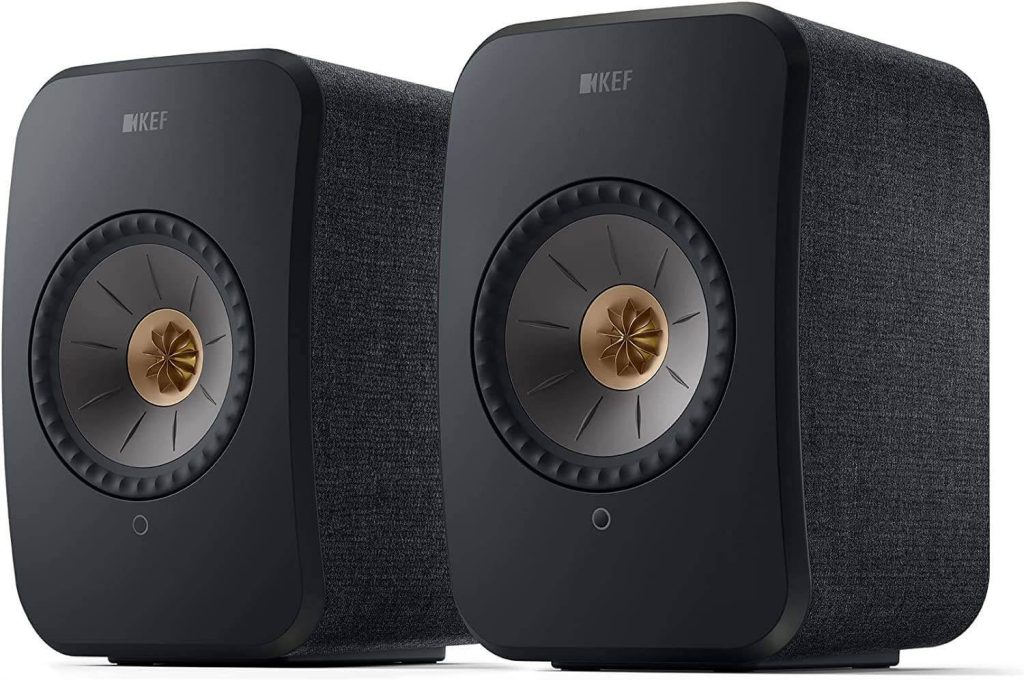 KEF LSX II is a High-Fidelity sound speaker that perfectly balances higher-resolution sounds with all types of connections. It is available in many eye-catching colors that suit your ambiance. The two speakers positioned parallel to each other create a true stereo sound with its three-dimensional soundstage. It's perfect for a small room and delivers enough bass weight to experience the music without any quality drop. The dedicated app to control the speakers from your smartphone is available on the reputed app stores.
Specifications:
Size: 24 x 15.5 x 18cm.
Streaming services: Spotify, Tidal, Amazon Music, Qobuz, Roon Ready, AirPlay, QQ Music, Internet Radio, Podcast.
Features: AirPlay 2, Google Chromecast, Roon Ready, UPnP Compatible, Bluetooth 4.2.
Inputs: Primary speaker, HDMI ARC, TOSLINK Optical, USB Type C, Analog 3.5mm, Ethernet Cable.
Drawback:
You need a wired connection to experience 24-bit/192KHz playback
Frequently Asked Questions
How many AirPlay Speakers can you use at once?
You can use three to six AirPlay speakers at once connected to a single device.
Is AirPlay better than Bluetooth speakers in case of sound quality?
The main difference between the two is the way they transmit their files. In the case of sound quality, AirPlay delivers better sound quality.