What We Know
Turn on AirPlay: Go to Control Centre → Tap the AirPlay icon → Choose the Device.
Use AirPlay: Go to Library → Play a song → Click the AirPlay icon → Choose a device → Choose a song.
5KPlayer is a multimedia player software that works as a downloader, screen recorder, and screen mirroring server. It has built-in AirPlay support and allows users to stream content from iPhone, iPad, and Mac to an Apple TV or any AirPlay 2-compatible TV. The best part about 5KPlayer AirPlay support is it will help you wirelessly stream the audio or video without any quality loss.
How to AirPlay 5KPlayer from iPhone/iPad
You can install 5KPlayer on your Windows or Mac PC to AirPlay any media from your iPhone or iPad.
[1] Connect your iOS device and PC to the same internet.
[2] Launch 5KPlayer on PC after installing it from the official website.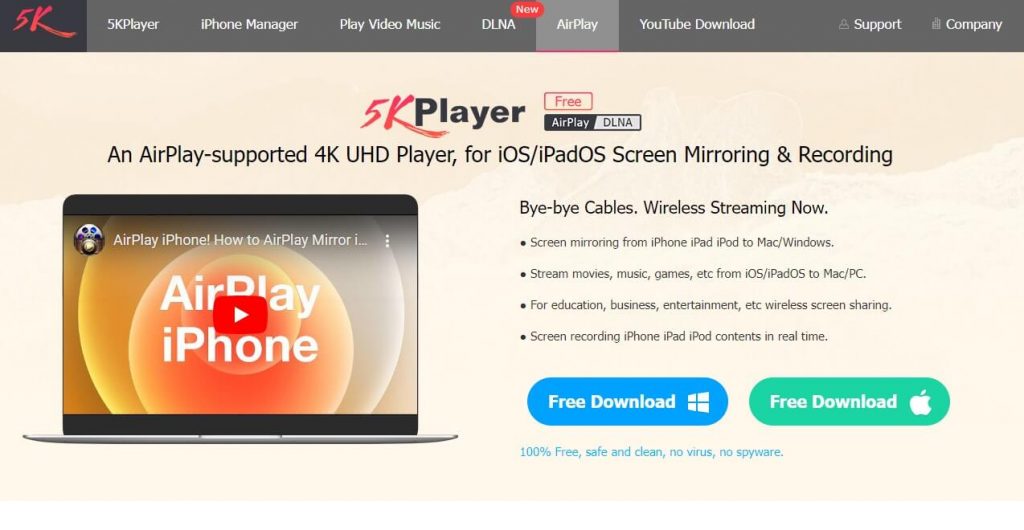 [3] Enable the DLNA AirPlay option from the Home page of 5KPlayer to access AirPlay Settings.
[4] Turn on AirPlay Service (If you cannot turn it on, tap Download Now).
[5] Select the Screen Mirroring option from the Control Center of iOS.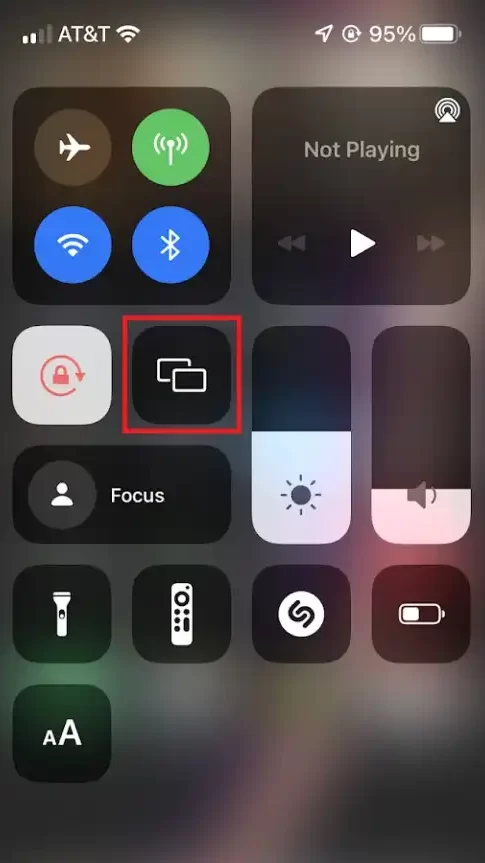 [6] Choose your Mac/PC or 5KPlayer once the device is scanned.
[7] Now, play a media and Screen Mirroring from iPhone/iPad happens on the Mac/PC via 5KPlayer.
Note: When you encounter no sound issue on AirPlay, check if the mute button isn't enabled on your iOS or raise the volume.
How to AirPlay 5KPlayer from Mac/PC to TV
Follow the steps below to mirror media from 5KPlayer to an AirPlay-2 compatible TV from Mac/PC.
[1] Enable the AirPlay option on TV (Settings > AirPlay and Homekit).
[1] Connect your TV and Mac/PC to the same WIFI.
[2] Launch 5KPlayer on Mac/PC once installing it from the official site.
[3] Click on the AirPlay icon from the top right corner of the Home page.
[4] Select your TV from the available devices.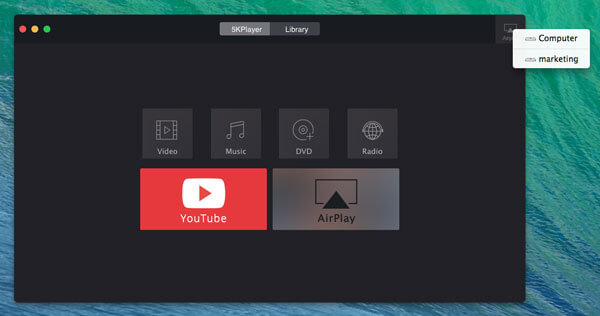 [5] Now you can stream anything from your Mac/PC to TV through 5KPlayer.
How to Fix 5KPlayer AirPlay Not Working Issue
Imply the steps below to fix when the 5KPlayer screen mirroring not working issue appears.
Ensure all AirPlay devices are connected to the same internet.
Confirm if your TV supports the AirPlay-2 feature.
Keep all AirPlay devices close to each other and the WIFI router.
Make sure no other devices are connected to AirPlay and WIFI.
Connect all AirPlay devices to strong, stable, and faster internet.
Update all AirPlay devices to their latest software versions.
Restart all AirPlay devices.
FAQ
Is 5KPlayer safe?
Yes. 5KPlayer is safe software that works absolutely fine on both Windows PC/laptops and macOS versions.
Is 5KPlayer free?
Yes. 5KPlayer is completely free software for all devices.
Is 5KPlayer better than the VLC media player?
Yes. 5KPlayer is better than a VLC media player because VLC offers the AirPlay feature and plays video and audio files.