LG is a reliable television brand with a steady presence in the market for over a decade. You can watch your favorite shows, series, movies, and documentaries at high picture quality using Apple's AirPlay. However, some users have a lagging issue when they try to stream the content on AirPlay on their LG TV. Starting your smartphone or Mac is the simplest fix to try when you get an AirPlay issue on your LG TV. If that doesn't resolve the issue, you need to improve the AirPlay performance on LG TV after analyzing the causes.
Possible Causes for AirPlay Lagging on LG TV
You are connected to a weak or unstable internet connection.
Your TV is paired up with multiple devices.
TV is running on an outdated version and needs to be updated.
Temporary malfunction in router or device.
How to Fix AirPlay Lagging on LG TV
Check AirPlay Compatibility
Improve Signal Strength
Power Cycles your LG TV
Remove All Paired Devices from LG TV
Reset the LG TV
Reboot the Router
Update TV Firmware
Check AirPlay Compatibility
Before getting into any troubleshooting techniques to fix the choppy AirPlay on your LG TV, check whether the TV model you are using supports the AirPlay feature. Look at the table given below to make sure that your LG TV is AirPlay compatible.
| | |
| --- | --- |
| Models | Series |
| LG OLED (2020) | RX, ZX, WX, GX, CX, BX series |
| LG OLED (2019) | R9, Z9, W9, E9, C9, B9 series |
| LG OLED (2018) | B8, C8, G8, E8 Series |
| LG OLED (2017) | W7, G7, E7, C7, B7 series |
| LG OLED (2016) | G6, E6, C6, B6 series |
| LG NanoCell (2020) | Nano 99, 97, 95, 90, 85, 80 series |
| LG NanoCell (2019) | SM99, SM95, SM90, SM86, SM81 series |
| LG UHD TV (2020) | UN85, UN73, UN71, UN70, UN69 series |
| LG UHD TV (2019) | UM80, UM75, UM73, UM71, UM69 series |
| LG UHD TV (2018) | UK62 and above, UK7 series |
| LG UHD TV (2017) | UJ77, UJ65, UJ64, UJ63, UJ62, UJ60 series |
| LG UHD TV (2016) | UH65, UH63, UH61, UH60, UH55 series |
| LG Super UHD TV (2018) | SK9, SK8 series |
| LG Super UHD TV (2017) | SJ95, SJ85, SJ80 series |
| LG Super UHD TV (2016) | UH95, UH85, UH77, UH76 series |
Improve Signal Strength
The AirPlay feature of LG TV uses internet signals to transmit videos from and to the devices. It is essential to have a stable and high-speed internet connection to enjoy seamless content streaming via AirPlay. Check the strength of your internet signal by visiting the Fast.com website. If your internet is slow, contact your Internet Service Provider to increase the signal strength. In addition, you have to make sure that your iOS devices and LG TVs are connected to the same network. It may help fix the no sound on AirPlay and AirPlay stuttering audio issues.
Power Recycle your LG TV
Power recycling is a simple technique to resolve various minor issues, including lagging issues on LG TVs. This process helps to fix the temporary malfunction in your LG TV.
1). Turn off LG TV and unplug it from the power socket.
2). After 20 seconds, plug in the TV to a Power source.
3). Now, turn on the LG TV and try streaming the content via AirPlay.
Remove All Paired Devices from LG TV
Most of the time, removing all the paired devices from your LG TV and then pairing your device via AirPlay helps to resolve the lagging issues on your LG TV.
1). To remove the paired devices, press the Home button on remote
2). Navigate to Home Dashboard and select AirPlay.
3). Now, choose AirPlay and HomeKit settings to view the list of all the paired devices.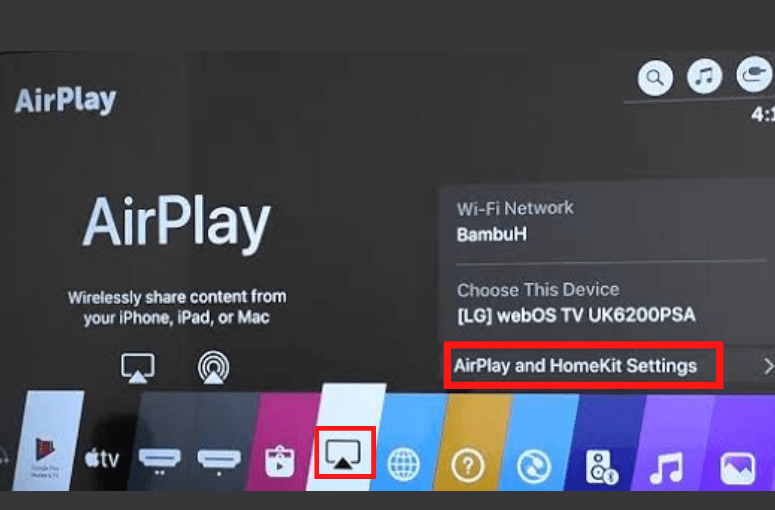 4). Proceed to remove all the paired devices and once again pair the devices via AirPlay.
Reset LG TV
Resetting your LG TV is a simple technique that can help you to resolve the lagging of LG TV while trying to AirPlay between two devices.
1). To reset LG TV, open the menu by pressing the settings gear button on the LG TV remote.
2). From the menu, choose All settings.
3). Then, select the General option and choose Reset to initial settings.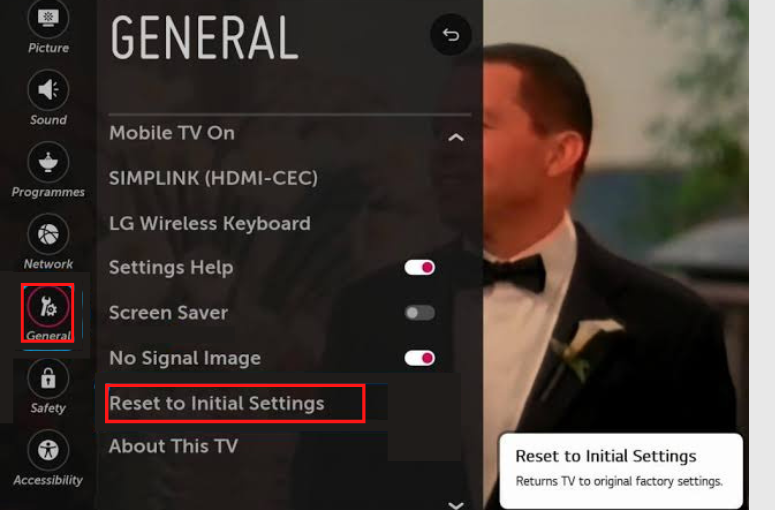 5). Scroll down to click the Revert to factory settings option to reset your LG TV.
Reboot Router Network
Rebooting your router will help resolve the buffering and lagging issues on the device connected to the router. The router slows down when more tasks are assigned to it. Similarly, when more devices are connected to the router, the bandwidth available to your device will get reduced. This leads to various issues like buffering and lagging issues when you try to connect devices via AirPlay.
Update LG TV
More often, running your device in an outdated software version will lead to lagging issues on your TV. To avoid such issues, you should update your TV to the latest software version available.
1). To update LG TV, go to Settings by pressing the Gear icon on your remote.
2). From the list of settings menu, choose All Settings.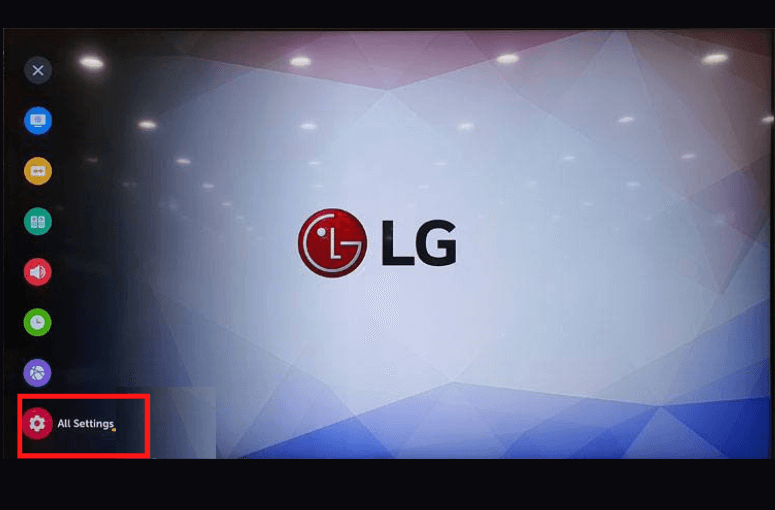 3). Choose General and then select Software Update.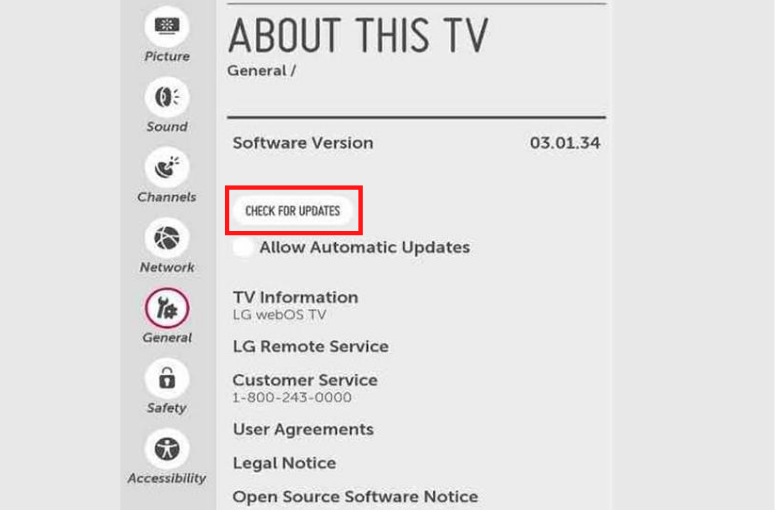 4). Then, click on Check for Updates.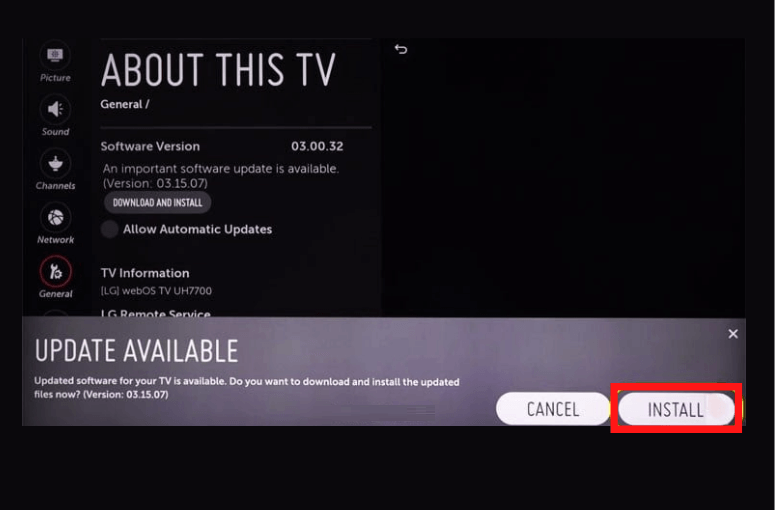 5). Download and install the update by clicking Install if any update is available.
6). After the completion of the update, restart your TV and check whether the issue gets resolved.
Besides you can also try factory resetting your TV to resolve the AirPlay lagging issue on LG TV. However, a factory reset will wipe out all the apps and data on your TV. Ensure you have taken a backup from the device before performing the factory reset on your LG TV. If none of the given tips helps you to resolve the LG TV AirPlay lagging problems, then you have to contact LG support to ask for help to resolve your queries.
Frequently Asked Questions
Is LG TV too old for AirPlay?
If you have LG TV 2016 and later models, then you can stream the content via the AirPlay feature.
How do I enable AirPlay on my LG TV?
You can enable the LG TV by following the below steps.
1). On your LG TV remote, press Home.
2). From the Home menu, go to Home Dashboard and select AirPlay.
3). Now, you can see the AirPlay and HomeKit settings.
4). Enable AirPlay from the AirPlay Settings.