AirPlay is one of the coolest features available on Apple devices. However, it will be disappointing when your favorite content is playing only the Audio and video is not showing on the screen during AirPlay. In this case, you may experience a black screen while AirPlay with only sound. Instead of worrying about the issue, you can follow these DIY fixes to resolve the problems instantly.
Possible Causes for AirPlay Only Playing Audio Issue
If the distance between mobile and TV is too far
Poor network connection
If the app has a corrupted cache
When the video format is unsupported by AirPlay or the receiver
Devices are running on outdated firmware
If you have enabled HomeHub on Apple TV
How to Fix AirPlay Playing Only Audio
If the AirPlay on your device only works with audio and does not work on video, you can follow these methods to fix the problem by yourself.
Keep your devices closer to each other
Update the firmware of your TV
Check the internet connection
Check your device compatibility
Turn off the Airplane mode
Check AirPlay Receiver Settings
Power Cycle Apple TV
Restart your device
Turn off the automatic AirPlay feature on iOS.
Turn off HomeHub on Apple TV
Note: The same fixes will help resolve Airplay only playing audio on Samsung TV, Roku, LG TV, etc.
1. Keep your Devices Closer to Each Other
If you hold your Mac or iOS device far from your TV, your TV will not receive the AirPlay connection properly. It may buffer the content or show only the audio or video on your TV. A maximum of 30 ft distance is recommended, or else you may face the problem of audio or video disconnecting. So always ensure to keep your devices close to each other. It is a common fix that resolves any issues related to AirPlay Not Working on Mac.
2. Update the Firmware of your TV
Sometimes your TV may have an issue with AirPlay from the last update, which may be fixed in the current update. However, if you are not updating your TV, you may still face the problem of AirPlay not working. By updating the software on your TV, you can enjoy the new features that are included on the TV. It eventually fixes the Apple TV only playing audio, not video.
To update your Apple TV, go to Settings → System → Software Updates → Update Software → If your TV founds an update, select Download and Install to update your Apple TV.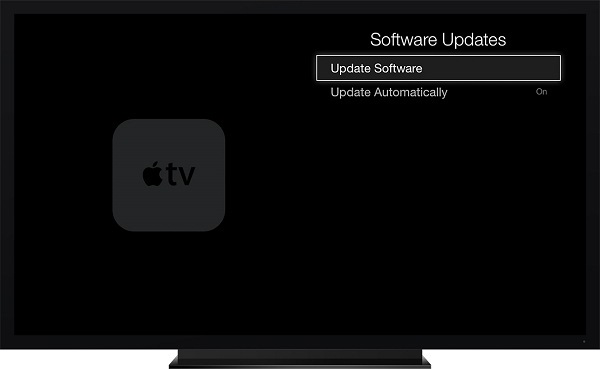 Note: Similarly, if your AirPlay-compatible TV is of other bands, you shall need to update the TV with the latest firmware.
3. Check the Internet Connection
The internet connection plays a vital role in every streaming device. If the internet connection is slow or unstable, the content you stream buffers automatically. Restarting the WIFI router is the best way to bring back your internet connection to the old speed. And always make sure to connect your TV and Mac or iOS device to the same WIFI connection for a better experience of AirPlay.
4. Check your Device Compatibility
AirPlay is a unique feature, and it is not compatible with all devices. You can use AirPlay only from the Apple and AirPlay-compatible device. The AirPlay is compatible with
iOS devices with iOS 11.4 or later.
Apple TV HD or Apple TV 4K running on tvOS 11.4 or later.
Mac with macOS Monterey or later.
HomePod with iOS 11.4 or later.
5. Turn Off Airplane Mode
If you have enabled the AirPlane mode, it automatically turns off the WIFI connectivity and mobile hotspot. When the WIFI is not connected to the same network, you may lose the connection between your TV and mobile while streaming the content over AirPlay. Sometimes quickly enabling and disabling the AirPlane mode will help to fix connectivity issues on your mobile.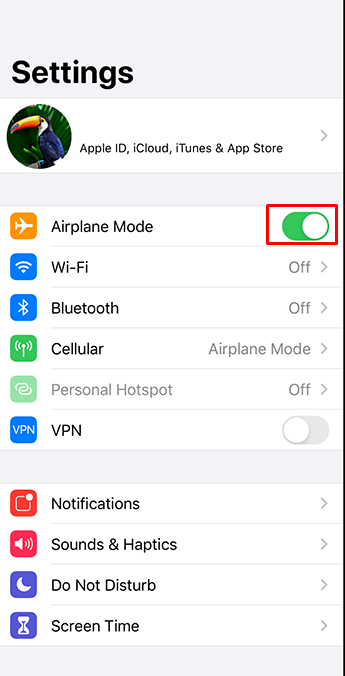 6. Check AirPlay Receiver Settings
Sometimes, misconfiguring AirPlay on your Apple TV and Smart TVs can lead to these kinds of issues often. To fix this right away, you need to check the AirPlay settings and modify them if needed. Once done, you can try AirPlay the video and see whether the issue is resolved.
7. Power Cycle Apple TV
If you hear only Audio still when AirPlay to Apple TV, you can try power cycling Apple TV. Turn off your Apple TV and remove the power cables from the power socket. Leave for a few seconds, plug the cable back into the power source, and turn it on. Now, AirPlay and check whether you see the video on the screen.
8. Restart your Device
Restarting your devices is the best way to fix all the temporary problems on your TV by yourself. If the AirPlay on your TV receives only audio or video, you can restart your TV once. You can restart your device weekly once to maintain the TV in good condition.
Note: Meanwhile, you shall check out the fixes for AirPlay Unable to Connect to HomePod.
9. Turn Off the Automatic AirPlay on iOS
When you have enabled the Automatic AirPlay to TV feature on your iOS device, it automatically connects your device and TV at all times. To avoid this, you can disable the function under the Settings of your iOS devices.
To Turn Off Automatic AirPlay on iOS: Launch the Settings app on your device → Tap General →AirPlay & Handoff → Automatically AirPlay to TVs → click Never.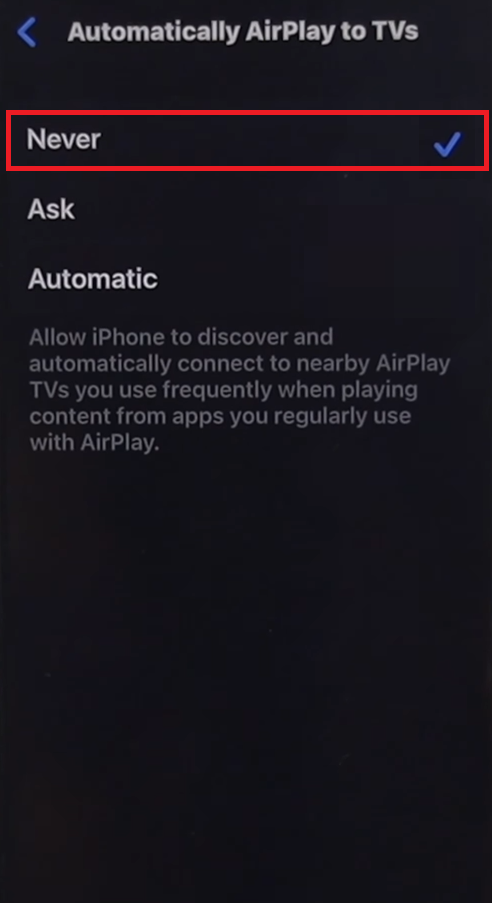 10. Turn off HomeHub on Apple TV
Sometimes, you might have turned on HomeHub on your Apple TV. This could be the reason why you are hearing only audio not video on AirPlay. This trick helped many users to fix the issue. To do this, simply go to Settings on your Apple TV. Select AirPlay & HomeKit and choose HomeHub. Make sure it is turned off by clicking on that option.
Frequently Asked Questions
Why is AirPlay only playing audio on Samsung TV?
Maybe the devices are not in a wireless range or the content you play via AirPlay is unsupported by Samsung TV.
Why is AirPlay not working on my Apple TV?
If the AirPlay is not working on Apple TV, your TV and iOS device may not be connected to the same WIFI network. Also, check if you have updated the app and device to the latest version.